Hello, everyone!
Recently, Friend of mine who is Instagram influencer from Japan has visited to Melbourne, and guess what?
She stayed at the renowned "Ritz-Carlton Melbourne," which is making waves right now.
So, I thought I'd share my experience over a cup of tea with you, including insights from a local resident's perspective, along with information from the official website and online sources. Let's get started!
About Ritz-Carlton Melbourne
The Ritz-Carlton Melbourne is a luxury hotel under the 6-star Ritz brand, which opened its doors in March 2023. I always thought that 5-star hotels were the highest, so I was pleasantly surprised to discover that there are 6-star hotels! Located on the 80th floor, the Sky Lobby offers breathtaking views of the magnificent Port Phillip Bay.
It's undoubtedly the most talked-about luxury hotel of 2023.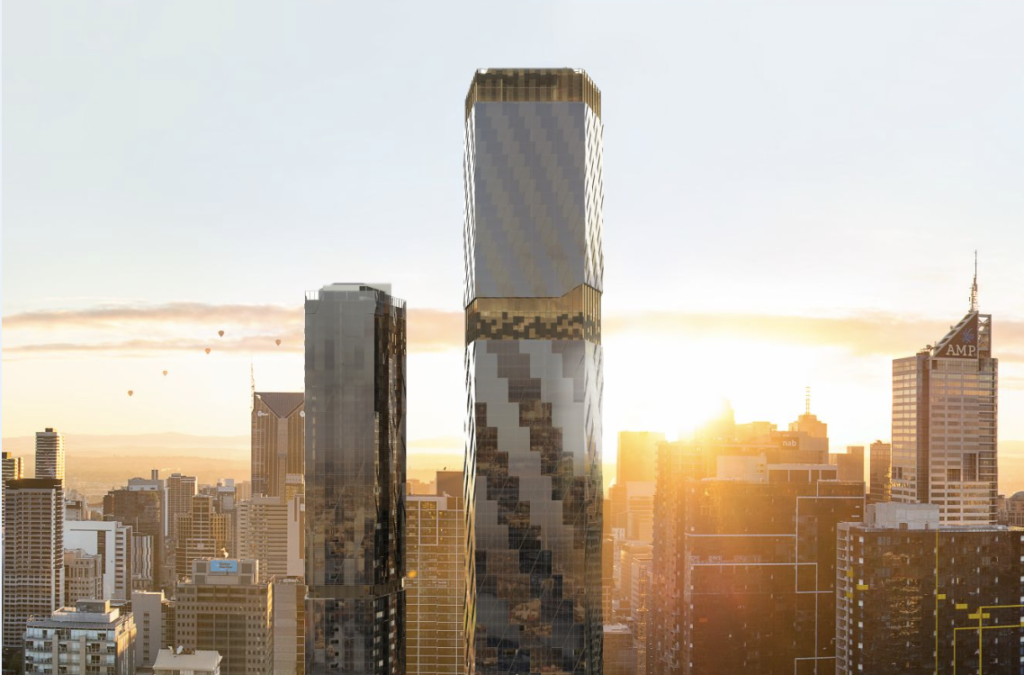 Photo by Ritz-carlton Melbourne
What surprised me the most is that when you think of The Ritz, you usually associate it with prices that easily exceed 1000 AUD per night. But guess what! You can actually stay at The Ritz in Melbourne for around 550AUD or so!
Check the prices on Expedia right here!
Location of Ritz-Carlton Melbourne
The location of Ritz-Carlton Melbourne is right on the edge of Melbourne's Central Business District (CBD), with Southern Cross Station right in front of it.
You'll find Bourke Street tram stop just two blocks away, so it's a quick 5-minute walk. However, please note that this area is primarily an office district, and many cafes and restaurants tend to close on weekends and public holidays.
Melbourne's CBD is centered around the corner of Swanston Street and Bourke Street, right in the heart of the city. You'll find plenty of shops and restaurants in that vicinity, so taking a tram there is a good option.
Melbourne's CBD trams are free, making transportation incredibly convenient.
You'll also find small supermarkets and convenience stores in the vicinity, so you won't face any inconveniences. However, most guests staying at Ritz-Carlton may be more inclined to enjoy a leisurely hotel stay rather than intense sightseeing, so the location might not be a major concern for them.
The Indoor Pool at Ritz-Carlton Melbourne is Absolutely Stunning
The Panoramic Infinity Pool on the 64th Floor, Offering Breathtaking Views of Melbourne, is Simply Enchanting!
They also have a Steam Room and Sauna.
I'd love to spend a leisurely holiday relaxing by such a wonderful pool."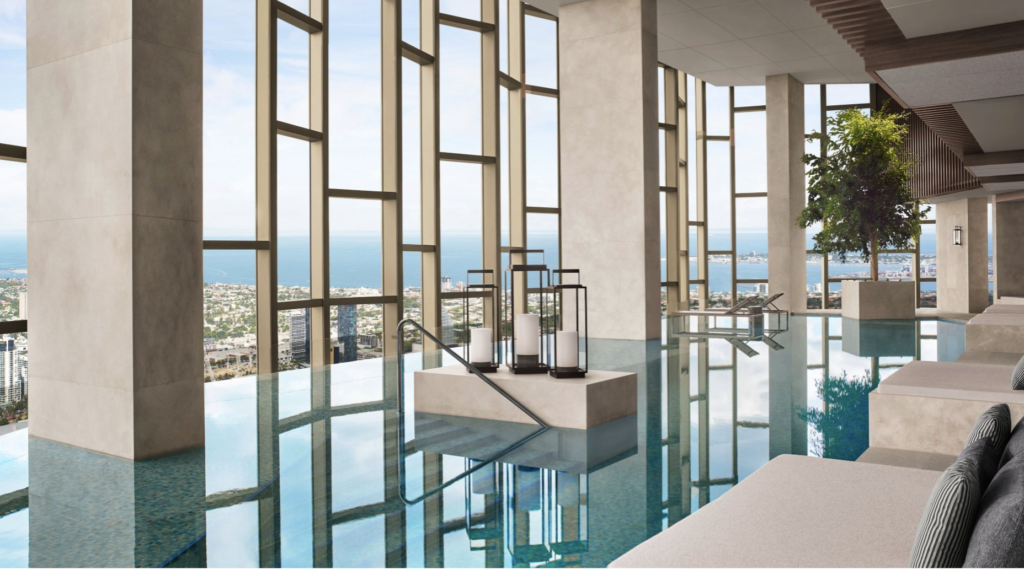 Photo by Ritz-Carlton Melbourne
All Located on Floors 65 and Above, Offering Spectacular Views from Your Room!
The guest rooms located on floors 65 to 79 offer a residential-like comfort, allowing you to enjoy Melbourne's magnificent views.
If you choose to stay in a Ritz-Carlton Suite, you can also access the Ritz-Carlton Club."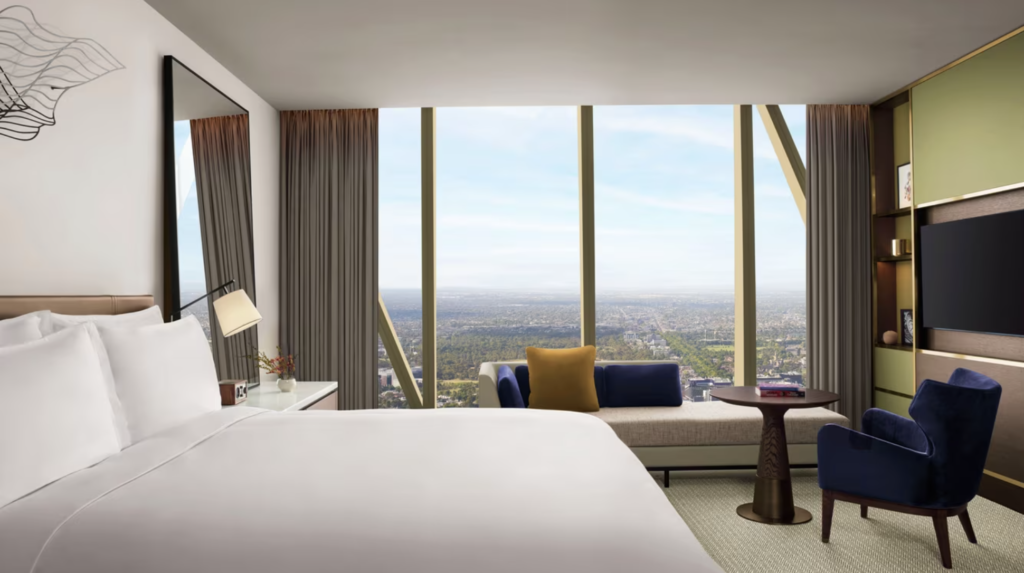 Photo by Ritz-Carlton Melbourne
Visited Ritz-Carlton Melbourne
I went to meet my friend who came to Melbourne from Japan, and we decided to meet at the hotel. We arranged to meet in the lobby. At first, I thought the ground floor was the lobby, but it turned out that the lobby was on the 80th floor.
The Ground Floor had a reception desk for the porters and sofas.
To get to the 80th-floor lobby, I took the elevator, but it required a key card to access the 80th floor.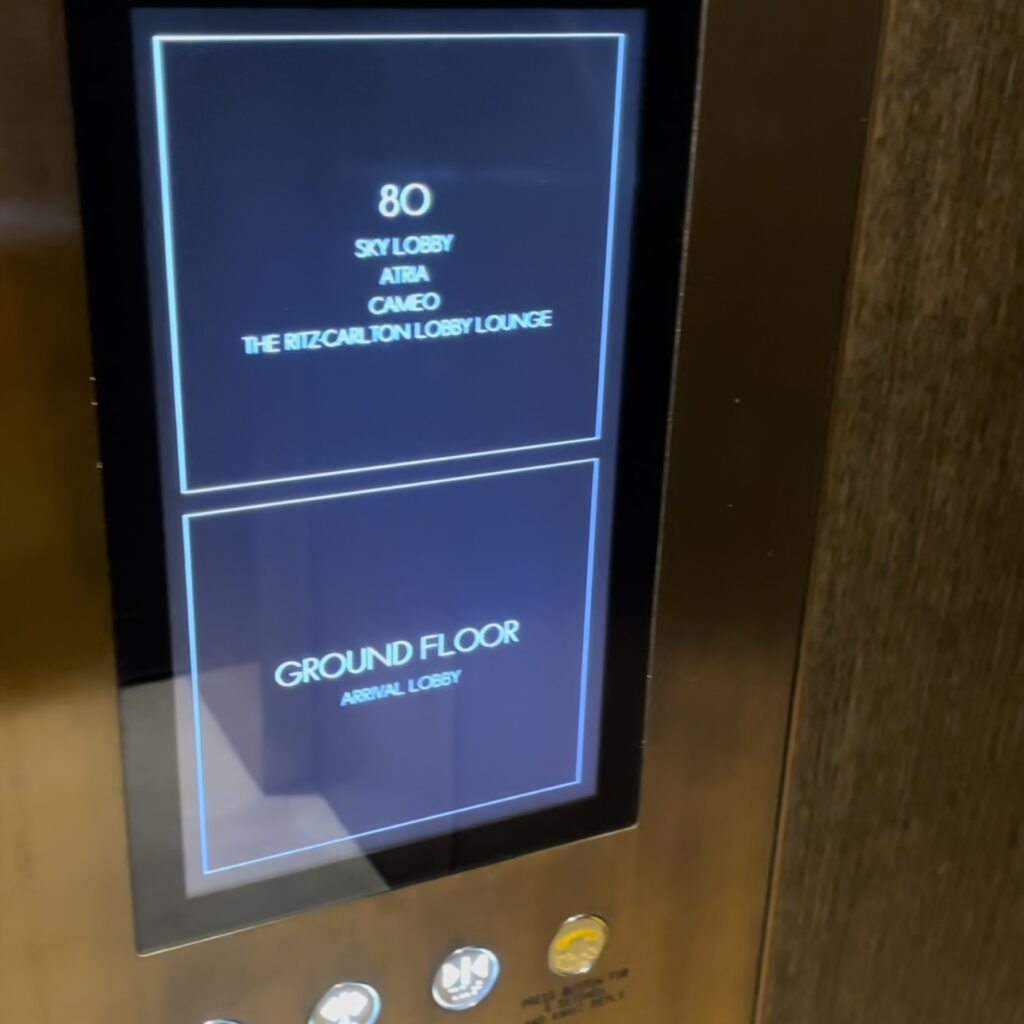 I called for a porter, and he escorted me to the 80th-floor lobby.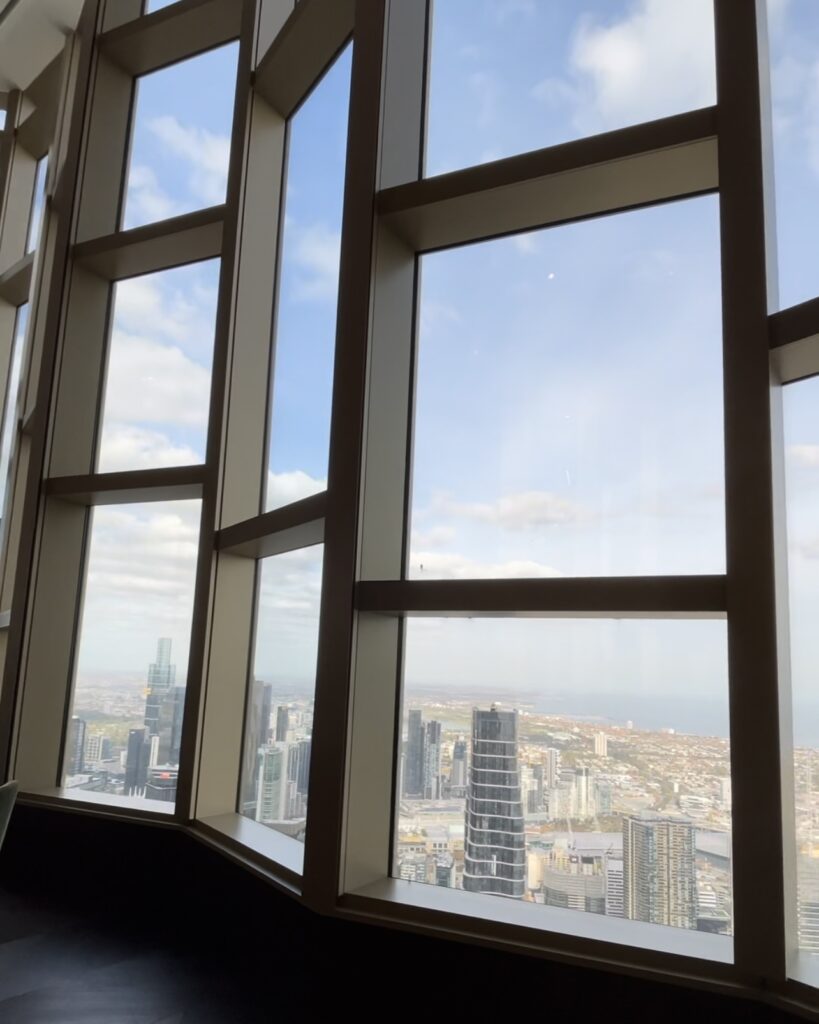 The view from the 80th-floor Sky Lobby was absolutely stunning! It felt like you didn't even need to visit places like the Eureka Tower to get such breathtaking views. On the 80th floor, you'll find the reception area and a restaurant.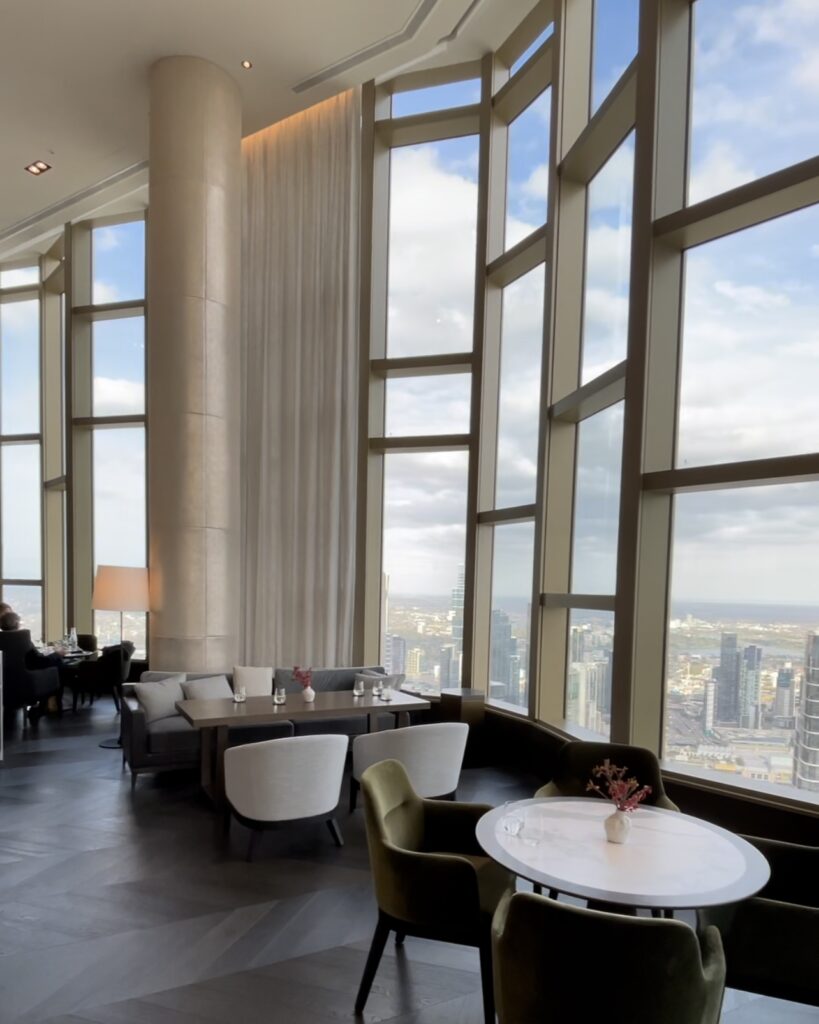 We decided to have tea in the lounge with this magnificent view.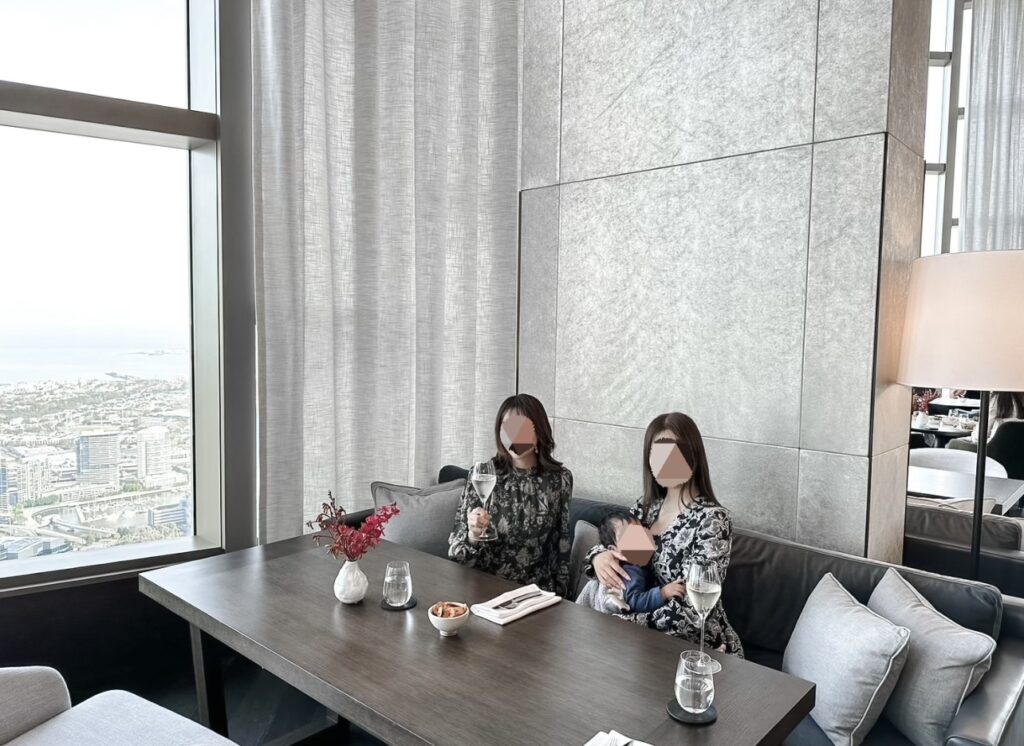 What started as tea ended up being champagne
The bathrooms at Ritz-Carlton Melbourne are also beautifully designed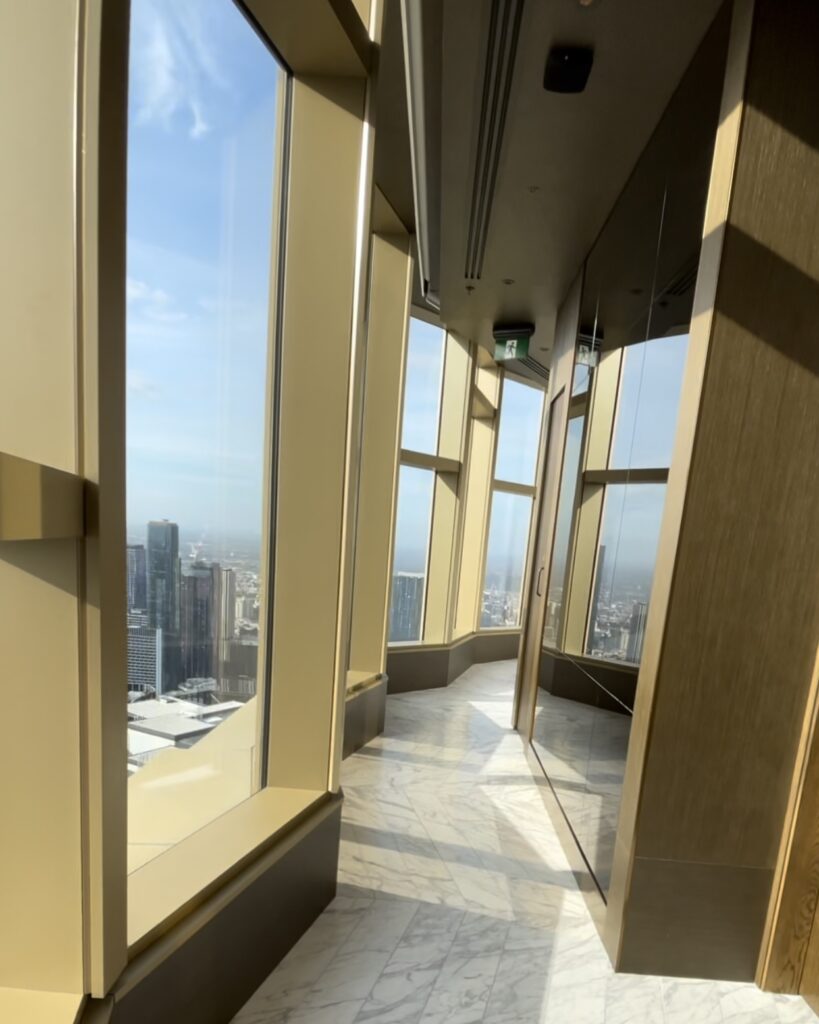 While the actual toilets themselves are not extraordinary, what truly stands out is the journey to reach them. The hallways leading to the bathrooms are lined with floor-to-ceiling glass, offering breathtaking views.
Afterward, we headed out for lunch at a nearby cafe, so we didn't linger too long, but experiencing this luxurious space was truly wonderful.
Reviews and Feedback for Ritz-Carlton Melbourne
Positive Review
●リッツカールトンメルボルンの口コミ素晴らしいリッツのスタッフの皆様、金曜日の妹の結婚式のために滞在中、家族と私がどれほど幸せだったかをお伝えしたいと思います。あなたは私たちを家にいるような気分にさせてくれて、妹の結婚式の朝はとても歓迎されていると感じてとてもリラックスできました。スタッフはとても素敵で親切で、すべてが完璧でした。部屋、プール、素晴らしいスパ施設が気に入りました。戻ってきてまたここに滞在するのが待ちきれません!私のお気に入りのホテル!! 😍
(原文)
To the amazing Ritz staff, I would like to express how happy my family and I were during our stay for my sister's wedding on Friday. You made us feel at home and my sisters wedding morning day was very relaxed as we felt so welcomed. The staff were super lovely and accomdating, everything was absolutely perfect. Loved the rooms, the pool and the incredible spa facilities. I can't wait to come back and stay here again! My favourite hotel!! 😍
●ホテルのすべてが素晴らしく完璧で、スタッフも素晴らしかったです。スタッフ全員がとてもフレンドリーで親切で、とてもポジティブな雰囲気を与えてくれました。受付のスタッフもドアの男性もとてもフレンドリーでした。そして、プールは別のもので、私が今まで見た中で最も美しい屋内プールで、とても静かでリラックスできました。部屋は 5 つ星で、素晴らしく、居心地が良く、とても清潔で、街の素晴らしい景色を眺めることができました。スパやジムなど、このホテルのあらゆる点が気に入りました。
(原文)
Everything about the hotel was amazing and perfect including the staff who were just spectacular. All of the staff were so friendly and helpful, which gave such a positive atmosphere. Reception staff and men at the door were so friendly. And the pool was just something else, prettiest indoor pool I ever seen, so calm and relaxing. And the rooms were 5 star- amazing, cozy and super clean with great view of the city! Loved every bit of this hotel including the spa and gym!メルボルンで最高のホテルだと思います。プールとスパは素
●晴らしく、チェックイン時に素晴らしいバーがあり、メルボルンの素晴らしい景色を眺めることができる 80 階にあります。全室70階以上の高層階
(原文)
I'd say best hotel in Melbourne. The pool and spa are amazing plus the 80th level where check in has a great bar and amazing views over Melbourne. All rooms are on high floors from 70 and above
Netgative Review
●Bonvoy Titanium メンバーとしての特典はまったくありません!クラブラウンジへのアクセスなし、無料の朝食なし、スイートのアップグレードなし、彼らはハイエリートメンバーの世話をしていません.残念だ!私
(原文)
As a Bonvoy Titanium member there is no benefits at all! No club lounge access no complimentary breakfast no suite upgrade, they don't really look after high elite members. What a shame! のホテルのインルームダイニングサービスにはがっかりしました。私の部屋から何かを
●注文しましたが、サービスは遅く、失礼で、専門的ではありませんでした。開業したてのホテルでスーツ姿でこんなパフォーマンスを披露しているのに、どうしてゲストに厳しい態度で話しかけられるのか理解できませんでした。このひどい経験にお金と時間を無駄にしたような気がしました。品質とサービスを重視する人には、このホテルをお勧めしません。
(原文)
I was very disappointed with the in room dining services at this hotel. Ordered something from my room and the service was slow, rude, and unprofessional. I couldn't understand why she could speak to a guest with a demanding attitude when she is on a suit and showing such performance like this in a newly opened hotel. I felt like I wasted my money and time on this terrible experience. I do not recommend this hotel to anyone who values quality and service.
引用 reference from Google reveiw
Booking Your Stay at Ritz-Carlton Melbourne
There are various ways to book your stay at Ritz-Carlton Melbourne, and I'll introduce you to some of the best options for finding the most favorable deals.
■ The Ritz-Carlton Official Website Marriott Bonvoy official web site
By signing up for a free Marriott Bonvoy membership, you can earn points for each stay, which you can then use to enjoy discounted accommodations. For those who are travel enthusiasts and Marriott hotel aficionados, credit card membership can provide even more opportunities to accumulate points and is highly recommended
■Booking via Expedia  EXPEDIA
Expedia, a well-known giant in the hotel reservation website industry, needs no introduction. Just like Marriott Bonvoy, signing up for a membership here allows you to earn points for each use. Expedia not only offers hotel accommodations but also attractive package deals that combine flights and hotels for added savings.


最後に。
Thank you for reading until the end. We hope you'll come and visit Melbourne soon.
We also feature recommendations for Melbourne's top spots, cafes, and restaurants on the blog, so please consider following us for more.